Our 1984 MKI with M-25 Universal was equipped with a Yanmar mixing elbow, we're not sure if this was original equipment or a mod from a previous owner.  Most likely the latter, since the mixing elbow seemed prone to clogging and we had issues with overheating anytime we ran the engine over 1800 RPM it seems hard to believe it was original.  At the same time, the engine had the original alternator bracket which is apparently prone to catastrophic failure (even though it lasted this long).  So we decided to bite the bullet and take on these projects.
Here is the layout with the old Yanmar mixing elbow (we had previously replaced the old heat exchanger with a larger new one).  To make it work, the exhaust hose had to make a pretty severe S bend which no doubt contributed to the exhaust issues and overheating: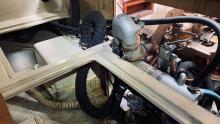 The old style alternator bracket and the side view showing the exhaust manifold.  Since the new bracket required the exhaust manifold to be removed we took it to a radiator shop and had it boiled out.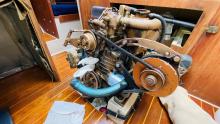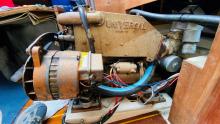 The repainted exhaust manifold installed and ready for the new exhaust riser to be installed.  We took the opportunity to touch up as much of the rest of the paint as practical.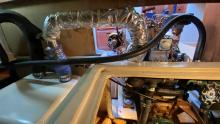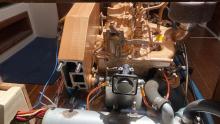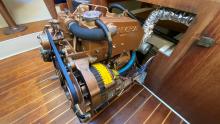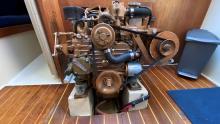 The new exhaust riser installed.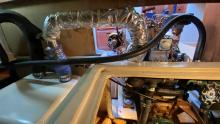 With the new riser in place, the engine runs much cooler with more consistent water flow.  Even at 2000 RPMs for as long as cared to, the temp holds at 175.  Mission accomplished!
And finally, what might have been the hardest part of the task, replacing the ratty old engine sound proofing.  It took two kits plus extra fasteners and a lot of effort cutting the foam but it sure makes a big difference in the sound levels with the engine running.
The next big project will be to replace the engine wiring harness. . .
—
Steve Orosz
s/v RIngle
1985 Catalina 36 Mk I #358
San Francisco Bay