Hi All,
It's time to drain and replace the coolant in my new--to me--1995 C36 MKII.  The badging is off the engine, but I found a badge in the nav desk that identifies my diesel as a M-35A(C).  That fits with my understanding of what Catalina was installing in 1995.
Universal's Operators Manual for the M35A(C), Publication No. 200494, Rev. 2 June 2015, page 14, has this image of the coolant drain plug.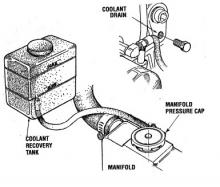 That appears to be on the engine's port side, just back of the oil filter.  That doesn't look like my engine.  It does look like Sail La Vie's M-35B: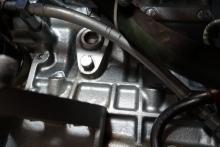 The Universal M-35A(C) Parts List, PUBLICATION NO. 201097 REv. 0 JUNE 2015, pages 2-3, shows a drain cock and plug on the starboard side of the engine, though the illustration doesn't show its actual location on the block.  This illustration matches the Universal 1990 M35 Parts List.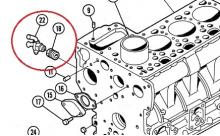 I know my engine doesn't have the cock and my fingers couldn't find a plug.  But, I iPhotographed the starboard side of engine and, back at home, found this image.  I've circled what I think is the drain plug.  It looks like it's been handled and there is paint lifting from the mount below it, as if liquid has drained there.
So my question:  have I found my coolant drain plug?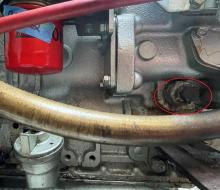 Thanks, in advance, for any thoughts,
Dan Cross
sv Hiatus
1995 C36 MKII TR/SK M-35A(C)
—
Dan Cross
sv Hiatus
Sailing from Menominee, MI
1995 C36 MKII TR/SK M-35A(C)