Hi I'm looking for Mast conduit or Steaming lights PHOTOS. I am going to rerun my noisy radar cable with the mast up. PO owner has it going into the side of the mast and not into the conduit. I'll have to pull most of the wires in order to fit the 3/4" connector. What size is that conduit on a MK1? It looks like 1" or 1 1/4" OD. Anyone have a photo of the TOP of the mast conduit with the mast head off. There is a good photo from Tom I belive of the bottom of his mast on a MK2. I drilled out the 4 rivets on the stainless halyard exit plate near the boom and got a good look inside the 1" x 3" hole there. I'll include a photot of that.    I've replaced 7 of my 8 shrouds/stays with the mast up- so I'm not going to pull the mast after all that so far. I added 4 mast steps up top so it's actually pretty comfortable to work up there for an hour or so.
For some reason the photo keeps inserting upside down.
INSIDE MAST CATALINA 36 MK1 AT 9 FEET OFF THE DECK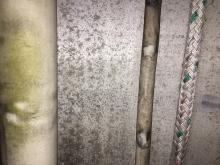 —
Tad
Simpler Times
1989 C-36 MK I #1004
Redondo Beach, Calif.