So I just replaced the damper plate on my M35B on my 2001 mk2.  Based on what I saw, it was probably the original.  After replacement, the can of marbles disappeared entirely (yay!)
A note for everyone: I purchased the new plate from PYI.  It was the R&D marine high-deflection plate (part number: RD22AM4).  The PYI folks recommended the high-deflection, as it allows 30 degrees of deflection.  The solid-polymer plate only allows 3 degrees, which I would expect will lead to premature wear since there's not a lot of dampening on the flywheel itself (according to some of the other posts).  So if you are looking to replace your own plate, get the high-deflection one.  It cost me $320 from PYI.  Not cheap, but better than paying someone else to replace it...
Here is a picture of what I found in the engine housing when I removed the transmission.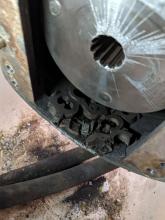 Pretty much all the dampening material in between the plates was gone (and on the bottom of the housing).  The plates were giving a very audible *clang!* while I was loosening the transmission.  Not good.  Hopefully the new plate will last me a good long time.
Kevin
Stars Align, 2001 C36 mk2 (#2038)