Hello All, I'm looking at the purchase of a 1997 C36 MKII. Everything looks pretty good after a personal inspection with the exception of a few concerns.
There has been the typical intrusion at the port and starboard forward bulkheads. At the top of the chainplate reinforcement strap they have dug out the bad wood and looks like they have filled it with epoxy. See attached pic. The port side bottom show water intrusion but the wood seems solid when poked with a dental pick. The starboard side bottom under the cushion is rotted. Pick goes in 1/2" or more. I've read the write up about replacing the port bulkhead. Very well done. If nessassary I can replace. Has anybody replaced the starboard bulkhead and how hard is it compared to the port. I did find the post about GitRot and that is an option for the botton. I don't find any soft spots going up either side of either bracket.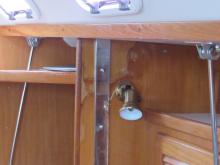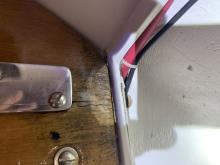 What is your opinion of the top repair job. Is it satisfactory or does it ned to be replaced?
The other area of concern isthe port window between the cabinets over the settee. There is water intrusion there. I'm sure it needs resealed. What concerns me is the wood is soft and pushed out. You can push it in about 3/16". The wood can be replaced but what is behind the wood? Is this more detrimental than resealing the port and replacing the wood?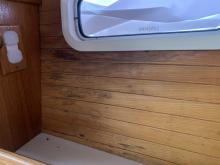 Ok last concern. The door to the V beth will not close and the door from the V beth to the bathroom will not open. The boat is sitting on the hard with the jack stands placed just forward of the mast in this area. Is the hull deformed structurely in some fashion or is it do to uneven pressure of the jack stands.
I would still have the boat looked over by a surveyor but not being familiar with Catalina's are these deal breakers?